Christmas traditions in the region Marche
Christmas in the region Marche: a story of warmth and sharing.


Home in the region Marche is the center of everyday life during holidays, it is the hearth of every celebration, being it religious or pagan, it is the secret place that protects the family, represents the sharing moments and the time you spend together with your family, an integral part of the Christmas traditions in the region Marche.
Every tradition in the region Marche is often connected with the countryside, the agricultural society and sharecropping. The regional landscape reflects into those traditions, and they represent its most ancient origins.
Excellent food and wine – Sangiovese (accompanying meat) and Verdicchio (accompanying the traditional fish dinner at Christmas Eve) – are the main features of every Christmas celebration. Typical dishes are delicious, even if they request a lot of time to prepare, as in the case of: Cappelletti in brodo (Cappelletti-pasta in broth, where you need home-made pasta and meat broth that takes a lot of time) or Baccalà (Salted Codfish) that has be left in the water for a lot of time and an accurate preparation for the best taste.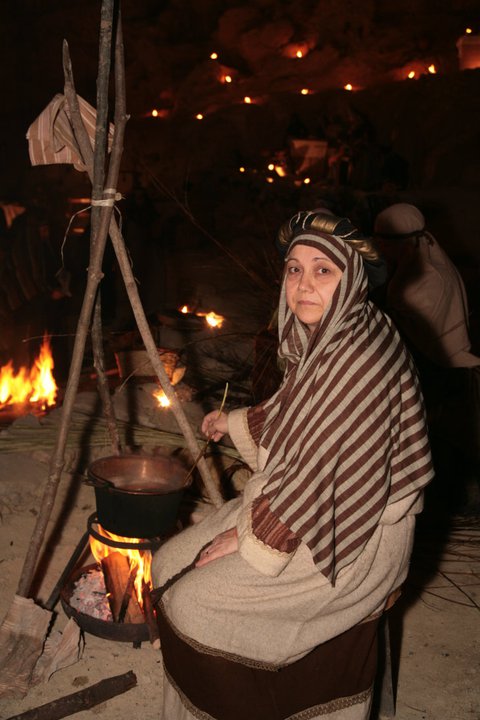 Religion in the agricultural society always played an important role and in our region, it is still very important, since the Marche used to be part of the Papal State. A typical feature of the Christmas period is the Live Nativity Scene, an evocative show that represents the nativity of Baby Jesus with real actors. The best Live Nativity Scene takes place at the Gola di Frasassi (near the famous Caves of Frasassi, in the province of Ancona – pictures are taken from the Facebook page of Presepe di Genga).
Christmas markets are much more modern and energetic, as we wrote during the previous posts, where you can enjoy handmade and gastronomic products meet in modern days, absolutely an overwhelming magic.
Christmas traditions in the region Marche tell a story of warmth, fireplaces, presents, tables laden with excellent food, happiness and serenity…to share with your family, maybe inside a beautiful farmhouse upon the gentle hills covered with snow.>