Conservatories / Orangeries
Conservatories are magical rooms, they allow people to live outdoors without suffering from the outside temperatures.  During long winter months you can work in an environment where you can see and actually hear the falling rain, it leads us to an immediate relaxation and a better relationship with nature.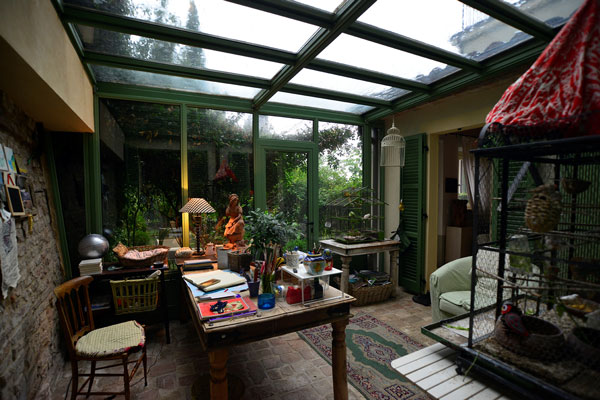 But not all conservatories are the same. You need to understand which one is more suitable for you, among the wide offerings. The architecture studio Sergio Marinelli (www.sergiomarinelli.com) favors the ones that were built by local artisans who are keen on working iron and glass, they offer the highest warranty on the structure but also quality and distinctiveness, preferring the refined but simple style that only the best architects are decently able to measure out.
It is essentially a work of harmony, lights and shades and shapes. Just because conservatories are beautiful glass containers that open towards the outdoors, an extension of the garden (that is the reason why in France, where they are very common, they are called "jardin d'hiver", i.e. winter garden), so creating a unique entity.
Shapes can be different: angular, round and rectangular, essential is that you can look at the sky and so roofs can be flat but saddle roofs are mostly advised. Rain and snow should fall easily without risk of seepage into the conservatory that could happen during the time, even though after a long time.
A conservatory can be used for several uses: meeting room, dining room, sitting room, study or even bedroom. During the summer, you can find solutions to shade the direct sunlight when the sun reaches the zenith; to protect from hot rays with electrical ventilated panels, indoors you can have a heating system but also a cooling system with the same technology.
To that point, you just have to choose the color and the flooring since the environment could be used for plants and animals, so you should probably avoid delicate surfaces on the ground that could easily absorb spots and ruin because of humidity.
Plants that live well in conservatories are essentially those that need shining places and protection from winter icing. All orchids, for instance, are able to suffer thermal excursion; when the temperature drops during the night orchids have no problems, they blossom from September until January instead, and you can imagine the beauty of their flowers during the winter.
In the country houses, i.e. Casa Colonica, the shape of a conservatory is the most attractive structure you can see. The whole feature with bricks or stones together with glass and iron is architecturally appropriate, the harmony consists of the contrast between style and materials, that is not affecting but an ability for measuring the elements like an alchemist, a gift of nature that with nature connects.